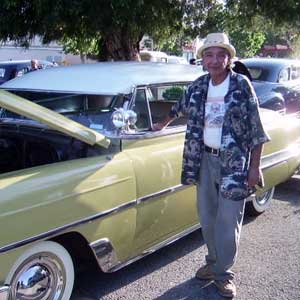 I first saw the light of day in November of 1949. Born to Raul and Ramona Morin. I am the 4th out of 5 sons, with one sister. At the time we lived in Boyle Heights, one of the greatest neighborhoods in the world-famous city of Los Angeles. Growing up, there was always music in our house, piano and accordion lessons, radio and the record player, and with records to listen to. Rock and Roll; Rhythm & Blues; Traditional Mexican songs; Jazz and Big Band Orchestra; and good Chicano Soul. We had it all.
I have so many terrific memories of people and places long dead and gone but they, and the music, still live on in my heart, unforgettable, soulful and beautiful as they ever were.
In closing, I would like to thank the MC and all the tremendous DJ's @ East LA Revue for giving me the opportunity, inspiration, and motivation to share the music on my show with you, our wonderful listeners. The title of my podcast is "Musical Routes in Rhythm & Blues".
Finally, I would also like to acknowledge the many great musicians, some of whom I was privileged to call "my friend", who supplied the tunes for "the soundtrack of my life" with their singing and music. "You rocked me out to the max"!