Welcome to the East LA Revue Internet Radio Website
The East L.A. Revue Internet Radio was established in early 2007 by Steven & Janie Chavez as a commercial free media venue dedicated to preserving the art of early American Rock & Roll and Soul music. This genre is favored by the West Coast East Los Angeles Chicano audience that represent the first English language Latino generational audience. This audience has lived through generations of social change and the birth, evolution, and continued enjoyment of this music.  Also, keeping a foot in our Spanish language roots music, and promoting established, as well as new, music talent.
As a fully independent and privately funded entity that has developed a Worldwide cult audience over the past 11 years, East L.A. Revue Radio enjoys the distinction of playing bi-lingual (English & Spanish) music in different genres spanning the 1940's era to today. It does this by playing music  24 hours a day by several experienced and talented DJ's.   These DJ's enjoy playing the music as much as the audience listening, receiving e-mails from different parts of the World.
Music Culture ~ It is said that a culture is defined by its Art…and a culture's Art reflects its history for future generations to learn and evolve from. That being said, this site is dedicated to the Art of music that has evolved from a Latino and African American perspective in America. Without being racially hostile or challenging, welcoming all races of all colors to join us in the enjoyment of music from our past, that brings us to our present, leading to our future. Since the end of World War II, Latinos have evolved into a musical legacy that has crossed racial, language, and genre barriers to the enjoyment of several generations. Starting with such musical pioneers as Lalo Guerrero and Don Tosti of the 1940's, to Rock & Roll legends of the 1950's such as Richie Valens, Chris Montez, Sunny Osuna, Dimas Garza, and the Storytellers, to 1960's Latin Legends as Ralfi Pagan, Thee Midniters, Cannibal & The Headhunters, Joe Bataan, the Premiers, the Blendells, Max Uballez and the Romancers, to popular 1970's groups such as Santana, Malo, Tierra, Nuestro, Los Lobos, and El Chicano, to the several outstanding cover groups that keep the music alive today.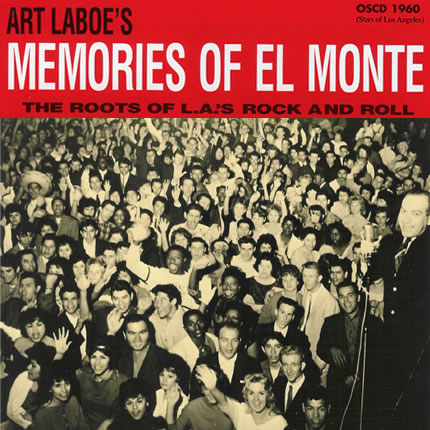 During the 1960's & 70's, the combination of all the afore mentioned talent has been become known as the Los Angeles "Eastside Sound" promoted by such legendary Los Angeles radio DJ's such as Art Laboe, Hunter Hancock, Chico Sesma, Huggy Boy, Wolfman Jack, the Marvelous Montique, Lucky Pierre, and others during the Viet Nam war era, as 3 of the largest U.S. Army, Marine Corps, and Navy bases were located on the West Coast within driving range of Los Angeles, and East Los Angeles became the hub of lowriding, live music & dances, and a sense of "refined cool" for the millions of young men and women coming to the West Coast that chose the Rock & Roll, Soul, and romantic ballads over the frenetic hard rock "hippy" culture of San Francisco at the time.
Although it has grown in popularity across the Country and several other Countries around the World due to the advancement of the Internet, for several reasons, much of our music played here has become tagged as "rare" because of the limited production, distribution, and exposure to mainstream entertainment media at the time it was recorded, along with racial barriers that existed at the time. Many of the recording artists have sadly fallen into obscurity.
Therefore, the East L.A. Revue Internet Radio stands dedicated, committed, and true to the Eastside Sound for your continued enjoyment. We are keeping it alive , like nobody else can!
The educational historical recordings presented on the East LA Revue.com Internet Radio site are posted for the sole purpose of promoting interest and appreciation for this unique genre of music and the culture.
If you are a copyright owner or an agent thereof and believe that any User Submission or other content infringes upon your copyrights, you may submit a notification pursuant to the Digital Millennium Copyright Act ("DMCA") by providing our Copyright Agent with the following information in writing (see 17 U.S.C 512(c)(3) for further detail):
 Physical or electronic signature of a person authorized to act on behalf of the owner of an exclusive right that is allegedly infringed;
 Identification of the copyrighted work claimed to have been infringed, or, if multiple copyrighted works at a single online site are covered by a single notification, a representative list of such works at that site;
 Identification of the material that is claimed to be infringing or to be the subject of infringing activity and that is to be removed or access to which is to be disabled and information reasonably sufficient to permit the service provider to locate the material;
 Information reasonably sufficient to permit the service provider to contact you, such as an address, telephone number, and, if available, an electronic mail;
 Statement that you have a good faith belief that use of the material in the manner complained of is not authorized by the copyright owner, its agent, or the law; and
 A statement that the information in the notification is accurate, and under penalty of perjury, that you are authorized to act on behalf of the owner of an exclusive right that is allegedly infringed.
Notify us via a posted email for the site with proof of ownership and we will promptly remove the song(s) from "The East LA Revue.com Internet Radio site."
You may access this site to use solely as intended through the provided functionality of the East la Revue Website. You shall not copy or download any User Submission unless you see a "download" or similar link displayed on the East la Revue website or with the exclusive written permission from the program manager of East LA Revue.com.
As the Radio Aztlan Chicano Director, El Beto-Man aka Roberto Tijerina-Cantú it is my pleasure that in Collaboration with East LA Revue we are glad to present our pre-recorded programing for your listening pleasure. Unfortunately, KUCR 88.3 FM is broadcast live On Air & simulcast on the world wide web. KUCR does not have an Archival Page of ancient, old, & current musical shows.
The Radio Aztlan staff personally record our own shows for our own personal Archives. El Beto-Man has been re-airing Radio Aztlan KUCR 88.3fm shows for the past twenty years on East L.A. Revue to introduce more listeners to our Friday night Showcase of Chicano Alternative Programing. We hope that everyone enjoys the courtesy provided by East L.A. Revue and wish that everyone keeps spreading the word about the KUCR Radio Aztlan Program. Gracias!