DJ Roberto Tijerina-Cantu' ~ FIRME Memories – Cruisin' Thru Midnite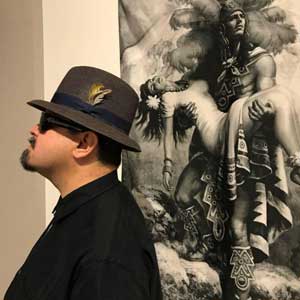 Roberto, aka "Beto" or "El Beto-man" over the Internet Radio waves for many years, was born and raised in the Coachella Valley, California.
Roberto, not unlike similar famous artists such as Stevie Wonder, Jose Feliciano, Ronny Milsap, or Ray Charles, has not let his sight impairment disability slow him down.
He is an accomplished music artist in his own right, as well as a published author, having written the " M.E.Ch.A. Leadership Manual". He has received numerous public recognition awards for his community activism, his participation with the Inland Empire Chapter of the Brown Berets, youth & school organizations, and the University of California, Riverside.
Roberto has also been a successful motivational speaker. His message to youth is – "stay in school, seek higher education and learn your history."
He has been an accomplished radio broadcaster as well, being a regular host on UCR's Radio Aztlan every Friday night since 1993, and he has been a regular on East L.A. Revue Internet Radio since its inception in 2007. His shows consist primarily of short interviews with Community leaders and activists, Educators, Musicians and Entertainers, and several others.