Mark Guerrero "Chicano Music Chronicles"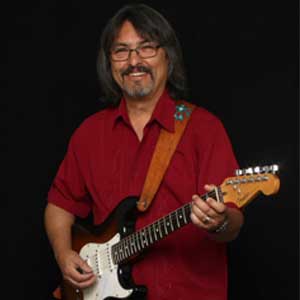 "Chicano Music Chronicles" on Mark Guerrero Radio spotlights Chicano, East L.A. and related artists and their music. Each show features the hits and best known songs by the guest artist, as well as songs Mark selects that are his personal favorites. Mark interviews the featured artists about their career and the stories behind the creation of their songs.
Mark Guerrero began playing in rock & roll bands at age 12. He led the popular East Los Angeles band Mark & the Escorts, who recorded two singles for GNP Crescendo Records. Mark has also recorded as a solo artist for Ode Records (produced by rock & roll hall of famer Lou Adler) and Capitol Records, and with his group Tango, for A&M Records. His songs have been recorded by artists such as Herb Alpert, Trini Lopez, Chan Romero, his late father, the "Father of Chicano Music," Lalo Guerrero, and East L.A. "Eastside Sound" artists Geree Gonzalez, The Heartbreakers, and Andy Tesso and the Rockers. Mark has performed on stage with Redbone, Eric Burdon, Ry Cooder, El Chicano, Tierra, Cannibal & the Headhunters Band, Denny Laine, Lalo Guerrero, and many others. As a Chicano and East L.A. music historian, Mark has written over a hundred articles, been a guest on numerous radio and television programs, consulted for museums, spoken at universities, and hosts his own website, markguerrero.net.
Mark Guerrero's "Chicano Music Chronicles" Podcasts

Mark Guerrero's East L.A. Music Stories
Anthony Baray of The Emeralds
Lawrence Perez of The Premiers
Sal Murillo of The Blendells
Bobby & Joey Delgado of The Delgado Brothers
Eddie Delgado of The Ambertones
Max Uballez of The Romancers
Orlando Zamora of The Sportsmen
Mike Aversa of Mickey & the Invaders
Jack D'Amore of The Emeralds
Danny Diaz of the Showmen / Chico
Ernie Hernandez of Mark & the Escorts / Tango
Fred Rivera Musician/ Author
Joe Espinoza of the Village Callers / Chico