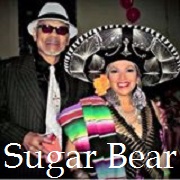 DREAMS OF DOO WOP #40 uploaded 7/27/18
Welcome to the DREAMS OF DOO WOP Show with DJ Sugar Bear here on the East LA Revue Internet Radio. Sugar Bear continues with a special mix of DOO WOP FOR LOVERS #40. So, kick-back, relax, and enjoy the ride.
We feature music by: THE TOWER OF POWER; ARCHIE BELL & THE DRELLS; RALFI PAGAN; RICK JAMES & TINA MARIE; DONNY HATHAWAY; AL GREEN; THE TEMPTATIONS; RAY CHARLES; CHAKA KHAN; SANTANA; TAVARAS; BOBBY WOMACK; and THE WHISPERS..
We thank you or stopping by and joining us here on the East LA Revue Internet Radio to join DJ Sugar Bear and "DOO WOP FOR LOVERS #40". We encourage everyone to check-out the other DJ podcasts on this page and the Vinyl Classics as well. This show was produced by The East LA Revue Internet Radio. Ay Te Watcho and Stay Tuned. Recording Time 1h 19m 14s
DOO WOP FOR LOVERS #39 6/21/2018 uploaded 4/2118
Welcome to the DREAMS OF DOO WOP Show with DJ Sugar Bear here on the East LA Revue Internet Radio. Sugar Bear continues with a special mix of DOO WOP FOR LOVERS #39. So, kick-back, relax, and enjoy the ride.
We feature music by: ROSIE & RON; SAM & BILL; FRANKIE KARL; THE RADIENTS; JOHNNY ACE; SHIRLEY & LEE; BOBBY DAY; THURSTON HARRIS; THE SILHOUETTES; THOSE TWO; BOBBY MERCHANT; THE BOBBETTES; THE INDIGOS; WALTER SCOTT & THE KAPERS; THE FIVE SATINS; THE INCREDIBLES; THE ROYALETTES; FRANKIE LYMON & THE TEENAGERS; THE CAROUSELS; THE CENTURIES; LITTLE VICTOR & THE VISTAS; THE RINGLEADERS; THE CUFF LINKS; THE ADMIRATIONS; and THE CHEATERS.
We thank you or stopping by and joining us here on the East LA Revue Internet Radio to join DJ Sugar Bear and "DOO WOP FOR LOVERS #39". We encourage everyone to check-out the other DJ podcasts on this page and the Vinyl Classics as well. Stay Tuned-in for more music coming your way. This show was recorded and mixed by Steven Chavez and co-produced by Sugar Bear and Steven Chavez.       
Recording Time 1h 11m 5s

© 2004, All Rights Reserved - East LA Revue