THE DREAMS OF DOO WOP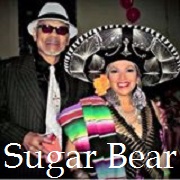 LATIN SOUL GREATESTuploaded 11/17/19
Welcome to The Dreams of Doo Wop Show, right here on The East LA Revue Internet Radio. DJ Sugar Bear is spinning some firme classic Latin Soul. On this show, DJ Sugar Bear is featuring Three "Latin Soul Greatest" entertainers and recording artist. This show is titled "LATIN SOUL GREATEST" and features music by Joe Bataan; Ralfi Pagan; and Willie Bobo. Joe Bataan is performing to this day.
The music is by: JOE BATAAN: Good Ol' Days: My Cloud; I Wish You Love; Ordinary Guy; Mujer Mia; The Prayer; and Gypsy Woman.
RALPH PAGAN: Just One Of Your Kisses; Make It With You; Who Is The Girl For Me; Don't Stop Me; Darling You; To Say I Love You; and No Soy De Ti.
WILLIE BOBO: Dindi; Spanish Grease; Fried Neckbones and Some Home Fries; Hurt Sp Bad; Dichoso; and Yellow Days.
Thank you for joining us here on the East La Revue Internet Radio with The Dreams of Doo Wop Show with DJ Sugar Bear. Please check out the other DJ Podcasts and Vinyl Classic feature.
There's something for everyone. Adios. Recording Time 1h 17m 34s.
Dreams of Doo Wop #43 uploaded 10/3/19
Welcome to The DREAMS OF DOO WOP Show with DJ Sugar Bear here on the East LA Revue Internet Radio. Sugar Bear continues with a special mix of Rhythm & Blues favorites and Doo Wop classics. So, kick-back, relax, and enjoy this show, titled "DOO WOP FOR LOVERS #43".
We feature music by: NOLAN STRONG & the DIABLOS; ROSCOE GORDON; LLOYD PRICE; THE LADDERS; THE NEW YORKERS; CARL and the BUDDIES; TONY ALLEN; THE DELICATES; THE TURBANS; THE FOUR TOPS; RICHARD DICKERSON; THE LOVELITES; THE ESQUIRES; THE MILLIONAIRES; JIMMY NORMAN; LITTLE RICHARD; JOHNNY & JOE; LITTLE JULIAN HERRERA; THE MIGHTY MARVELOUS; THE ATTRACTIONS; HONEY & the BEES; THE KALDERONS; THE CHANNELS; BILLY STEWART; GENE CHANDLER; WILLIE HUTCH; and THE SOUL SENSATI0ONS.
We thank you or stopping by and joining us here on the East LA Revue Internet Radio to join DJ Sugar Bear and "DOO WOP FOR LOVERS #43". We encourage everyone to check-out the other DJ podcasts on this page and the Vinyl Classics as well. Ay Te Watcho, Stay Tuned-in. Recording Time 1h 20m 57s
© 2004, All Rights Reserved - East LA Revue