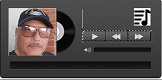 Grab Bag 23 6/4/20
Welcome everybody to the 23rd edition of the Great American Song Books Grab Bag Series where we will feature 18 artists starting off with Francisco Rojos with Que Ritmo Cha-Cha-Cha followed by Luis Salinas with Contigo en la Distancia, Blvd Knights with Champagne Lady, Bobby Matos with Motivo Jazz, Brenda K Star with Un Hombre Secreto, Cache with Demente Soy, Cal Tjader with Guajira At The Blackhawk, Carabali with Would You Be Mine, Cheo Feliciano with Incomparable, Carlos Averhoff with Cuando Canta el Corazon, The Cintron Band with Suavecito, Orquesta Sabor with Autumn Leaves, New Your Band with Always, Tito Rodriguez with Descarga Cachao ,
Los Jovenes del Barrio with Stop Slow Down, Dave Pike with Brenda, Dr Bobby Rodriguez with Dolly and to bring the 23rd edition of the Grab Bag Series to a close I went with Clare Fischer & 2+2 with the classic tune Morning. So if you love the sounds of Latin Jazz & Soul stop in on the Great American Song Book and enjoy.
Length of this show is 1:35:17
Grab Bag 22 5/30/20
Welcome everybody to the 22nd edition of the Great American Song Books Grab Bag Series where I will feature the music of 20 artists this week. I start the show of with Little Joe y La Familia with Make The World Go Away followed by Lee Ritenour with Stone Flower, Glenn Fry with I'm Getting Old Before My Time, Antonio Carlos Jobim with Favela, Ray Charles and Michael McDonald with Hey Girl, Ernie Watts and Alan James Pasqua with Childrens Games, Diana Krall with I Remember You. Alex Bugnon with Missing You, Karrin Allyson with Some Of That Sunshine, El DeBarge and Art Porter with Dindi, Nancy Wilson with How About Me, Frank Villalane with Deco Drive, Wesla Whitfield with Just One Of Those Things, Cal Tjader with Rogers Samba, Madaleine Bell with All The Love Went To Waste, The Yellow Jackets with Mojave, Carol MacFarland Thuet with Lost In The Stars, Paulette McWilliams and Bobby Caldwell with You Go To My Head, Paul Williams with Nice To Be Around and to bring the 22nd a close I picked Oleta Adams and Al Jarreau with The Girl From Ipanema.
So for your listening and dancing pleasure I present you with the music of the Song Book's 22nd edition of the Grab Bag Series the length is 1:39:06 and please feel free to let me know with you think of the show and what you may want to hear and I will try and make that happen.