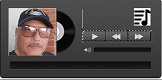 Grab bag 8 1/31/20
Welcome everybody to the 8th edition of the Great American Song Book. On this edition we continue with the 8th of our Grab Bag Series and feature 18 tunes from these artists leading off with Latin Breed who just lost one of it's founding members Jimmy Edwards with tune I'm Just An Average Guy followed by Tierra with Gema, The Brown Image with La Basura, Chico Band with Our Day Will Come, Coco Montoya with Mind To Travel, Johnny Hernandez with Wicked -Wicked Woman, Frank Gomez with Don't Do Me This Way, Albert Collins with Light Are On But Nobody's Home, Calvin Owens Blues Band with You'll Lose A Good Thing, Johnny Guitar Watson with Getting Drunk, Santana with I Ain't Superstitious, James Brown with Need Your Love So Bad, Big & Rich with Save A Horse Ride A Cowboy, Amy Winehouse with Valerie, The Budaheads with Mood For Love and to bring the 8th edition of the Grab Bag Series to a close I went with Birdlegs & Pauline with Mist Of A Dream.
Grab Bag 7 uploaded 2/14/19
Welcome everyone to the 7th edition of the Great American Song Book as I continue with the 7th of my Grab Bag Series on this Valentines Day you will hear from 18 artists starting with the 5th Dimension with Working On A Groovy Thing followed by Ace Spectrum with Moving On, Al Jarreau with Letter Perfect, Player with Baby Come Back, The Average White Band with A Love Of Your Own, Blood Sweat & Tears with Hi-De-Ho, The Beatles with You Never Gave Me Your Number, Bobby Womack with Woman's Gotta Have it, Boz Scaggs with Lowdown, Billy Joel with Just The Way You Are, Bead with Make It With You, Chicago with Little One, Earth Wind & Fire with Where Have All The Flowers Gone, Barry Manilow with This Ones For You, Tower of Power with Time Will Tell, The Commodores with Heaven Knows, Tierra with We Belong Together and to bring the 7th edition of the Grab Bag Series Valentine Day Show I went with Norman Connors with Valentine Love.
So if you enjoy the sounds of latin rhythms with guitars, horns, Sax's and percussions drop in on the Great American Song Book here on the Internet Jukebox and enjoy Grab Bag 6 and feel to give some feedback on what you think of the show or what you may like to hear on a future show at Chino777@aol.com
lenght of this show is 1:19:54